Emergency Plumbing Repairs
When You Need Us, We're There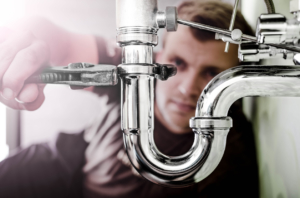 A plumbing problem is never a good thing. But, a plumbing emergency is a tragedy for your home, your budget and, since your plumbing plays a key role in your day-to-day life, your comfort, too. Unless, of course, you act fast.
When there's a true plumbing emergency, time is not a luxury. In fact, every second counts. That's why our team at Ray The Plumber delivers emergency plumbing repairs. From a burst pipe to a leaky gas pipe, our professionals will respond to your call quickly, show up at your door promptly and resolve your plumbing issue right away.
From Emergency to Serenity
There's a difference between a plumbing repair and a plumbing emergency. For instance, a clogged drain can wait, but a burst pipe can't.
However, sometimes the line between the two is unclear. That's why you need to turn to Ray The Plumber. Our team will use its expertise to determine whether your plumbing issue is urgent.
But we don't stop there. If you're facing a plumbing emergency, we will send a plumber out right away to address the issue with the proper solution. Our emergency plumbers will get your plumbing (and your serenity) back on course quickly to prevent further damage and protect your bank account.
The Key Is to Beat the Clock
During a plumbing emergency, every minute counts. So, the quicker you're able to identify an issue, the more time you can dedicate to addressing it. These crucial minutes may just be the difference between fixing an issue and facing a costly catastrophe. That's why we encourage you to familiarize yourself with these common emergency situations.
Step on the Gas to Resolve This Issue
A gas leak is one of the most dangerous emergencies. Whether it stems from a pipe or an appliance, not addressing a gas leak immediately can put lives at risk. There is no time to waste. These leaks can result in a fire, explosion, death, injury or serious damage to your property.
If you smell gas, it means something's wrong. Switch off the main gas valve quickly. Then call Ray The Plumber right away.
This Will Make Your Blood (and H2O) Run Cold
Having access to water in your home is a necessity. However, when the temperature drops, watch out. Frigid winter weather can make your pipes freeze. This will stop H2O from flowing into your home.
Not to burst your serenity bubble, but it gets worse. You see, when water freezes, it expands. So, if your pipes are weak or aren't insulated, it can lead to your pipes bursting.
If a pipe bursts, immediately shut off the main water valve and call our team for help. Without delay, our emergency plumber will melt your worries away.
Too Much H2O Is a Big Oh No!
When it rains, it pours. But if it's not doing either, then water shouldn't be in your yard. So, if you notice a puddle of water or gushing H2O on your property, it's a clear sign you're facing an emergency. You need to shut off your home's water supply—pronto. Then, pick up your phone and call us. We'll have your home operating swimmingly in no time.
Plumbing Emergency? Call Us!
At Ray The Plumber, our team refuses to call it a day unless we're confident our customers are safe and comfortable. So, if you are facing a plumbing emergency, call us at 1.877.CALL.RAY immediately!
As always, if you have any questions in regards to your plumbing, feel free to reach out to us by calling us or filling out our online form.